bitDisciple
Posts: 1727
Joined: Wed Aug 03, 2005 7:48 am
4 + 3 =: 0
antispamboolean: No
Location: Big Left Turn, Indiana
Contact:
Not quite done, but it's just not halfbaked anymore.
Start with WW2 era White motor company M3 half-track Armored Car.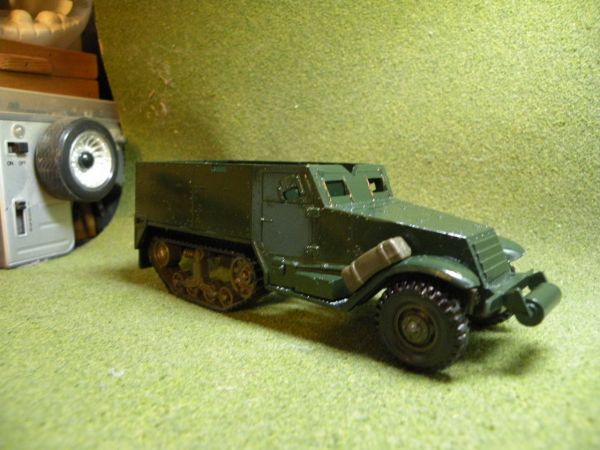 I have a cannon and blast shield to make it into a T12 / M3 Gun Motor Carriage, but I'm not all about the look. Tank killer artillery is sweet, but I dunno if I feel it when mounted, may block IR.
I don't like throwing tracks in battle. Tandem axles are cool. Which brings me to this.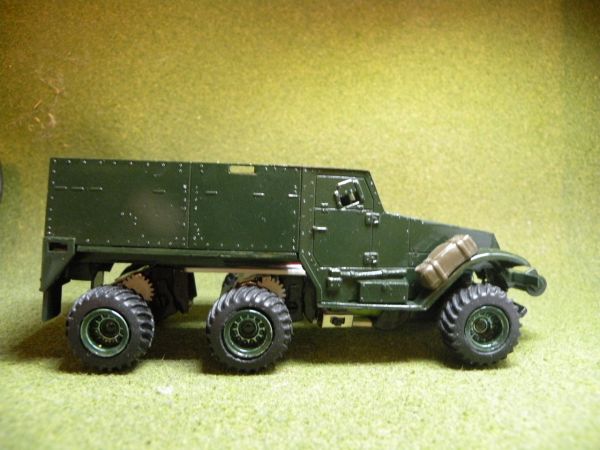 Not sure if I'd like it setup as WW2 fighting platform, crazy collectors plaything, or for some End of the World / Zombie Apocolypse thing.
Airhog truck type Q-steer buggy, dual cell, dual motor, full suspension. Revell body.
Jack of all trades, master of none; yet often better than master of one.
-
End genital mutilation, don't circumcise. Restore your fore'
---
Posts: 6
Joined: Sat Oct 15, 2011 7:55 pm
4 + 3 =: 11
I like it. How's it run?
---
bitPimp
Posts: 3952
Joined: Mon Mar 03, 2003 2:48 pm
4 + 3 =: 0
antispamboolean: No
Location: D.C. GoGo! In Da House
WoW ! Good to see you're still moddin Pimp !
---
bitNinja
Posts: 776
Joined: Fri Apr 30, 2004 12:22 am
4 + 3 =: 0
antispamboolean: No
Location: NYC/NJ
This one MUST be fun off road

---