bitPlaya'
Posts: 161
Joined: Mon Nov 28, 2005 7:30 pm
4 + 3 =: 0
antispamboolean: No
Location: Silicon Valley, CA
Contact:
question is, is it worth giving a go? i'm 60-70% done, just need to finish up the wheel adapters (easy), suspension arms (damn hard) and spec'ing the thread sizes in case i actually have a machinist do this.
it'll serve as a test base for belt drive w/o tensioners, cf plate front suspension, and a special ball diff. this design isn't quite what i have in mind for a final product, rather just a test bed and to use the square TE-37's i still haven't found a use for. (yes, it'll use standard MR-01/02 wheels, all i have to do is change the knuckle design by 2.5mm.)
at least i have the diff balls i need.

you can probably figure out where i'm planning to put these belts. and yes, i've done my homework before attempting this piece of graphic crap.
edit: damn you imageshack.
edit #2: suspension. arm thickness was a best-guess thing, based on the h-plates i've seen. won't matter too much this time, will matter in the long run.
edit #3: new suspension. arm thickness reduced, ball moved to knuckle instead of arm extension.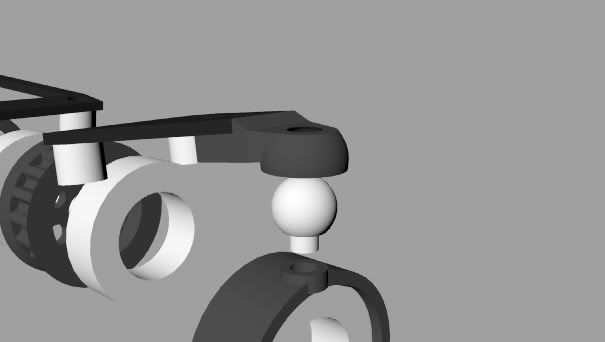 and for fun, a little detail of the rear pod... thoughts?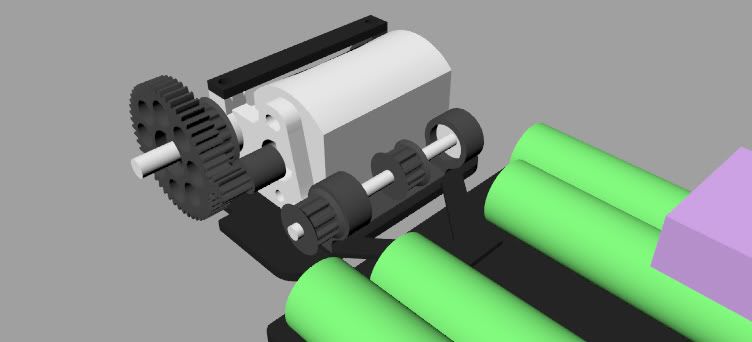 Greyscale Racing
---
bitPlaya'
Posts: 161
Joined: Mon Nov 28, 2005 7:30 pm
4 + 3 =: 0
antispamboolean: No
Location: Silicon Valley, CA
Contact:
double post, but i really would like some feedback from you guys here.
i don't have the funds for a rough draft, so i'm just gonna go all out with what i originally had in mind with this:
4-wheel independent suspension, half-gear-half-belt drivetrain, which isn't going to be affected by suspension movement unlike the previous draft. power goes from motor > pinion > idler gear > rear diff > belt > front diff. differentials have 6 balls, and i'm considering using silicone for diff plates.
suspension, i can make partially interchangeable front and rear. front bulkheads only will be 2-piece, so i can switch out the top part of the thing to change caster (0, 2, 4, and 6 degrees sounds good right?). front bulkheads will also house the front eccentric bushings (for tension adjustment). after i rework the knuckles -- the ball is once again going to be screwed/pressed into the top suspension piece -- i'll make 0.5, 1, 1.5, and 2 degree camber knuckles. front toe in, same thing, 1, 0, and -1 degrees toe in. rear toe in, 1.5, 2, and 2.5 degrees. for damping, there will be a slot in the lower suspension subframe, where a foam/rubber disk will be slipped in and then punched through by the knuckle. so it'll be like a friction damper, minimized, and put under each wheel.
with the batteries and motor laid out in a space-efficient format, i can run the M, L, and LL wheelbase with as an MM car. still, this design isn't half done... i need an upper deck, front and rear bulkheads, lower suspension subframes, dogbones, wheel axles, and wheels. plus, i'm redesigning the knuckles so that the ball joint sits lower overall, thus increasing wheel clearance. lots of work ahead of me.
Greyscale Racing
---
---
Posts: 17
Joined: Wed Jan 18, 2006 5:05 pm
4 + 3 =: 0
antispamboolean: No
Location: Alberta,Canada
Go ahead with it. It looks like you have it all planned out so why not give it a try.
O ya what computer program did u do that on?

2 friends+too much red bull= Mob of pissed off people.
---
bitNinja
Posts: 631
Joined: Mon Apr 25, 2005 6:59 pm
4 + 3 =: 0
antispamboolean: No
Location: SoCal
Contact:
I read somewhere that he said he used Rhinoceros3D or something like that. Go ahead with it, the design is pretty good, but the problem would be making the parts.
---
bitPlaya'
Posts: 161
Joined: Mon Nov 28, 2005 7:30 pm
4 + 3 =: 0
antispamboolean: No
Location: Silicon Valley, CA
Contact:
when i'm done with it, parts will be troubling indeed.
i have some new conceptual pics of the top plate system; i can adjust camber without having to switch out knuckles. see if you can visualize what i'm trying to put across; look at the pics to reference.
there are four large circles there, 2mm in diameter; a screw goes through here and clamps the ball to the suspension piece. the four smaller circles are for a pin, which is attached to the ball. since the pin is of set length away from the ball, by moving the mounting points of the pin, the ball is moved forwards or backwards. then, the user tightens up the screw to keep the camber change solid.
to reiterate, this is the top suspension piece, so by moving the ball in, the top of the knuckle moves in.
0 camber:
-1 degree:
-2 degrees:
-3 degrees:
the only compromise i have to make for this is a little more cost, and a little shorter cf spring-arm. not a bit troubling, now that i can adjust camber without disassembling the car. loosen one screw, push cf arm up, switch hole, tighten screw. i think this is a good idea.

edit: long post and lots of pics, i apologize.
with what little time i have today, i made a little 3D sketch of my friend's idea. props to cheezman for this camber plate thing.
this is the ball; the inside is threaded for a 2-56 screw.
this is the top camber plate, so to speak. the screw goes through the oval.
0 degrees camber:
-1 degrees camber:
so on and so forth. with each successive hole, the ball moves inwards 0.25mm, which coincidentally is exactly the distance i need to achieve 1 degree increments.
Greyscale Racing
---