bitDisciple
Posts: 1798
Joined: Thu Jul 31, 2003 7:15 pm
4 + 3 =: 0
antispamboolean: No
Location: Barbados
I don't know how many of you pimps are into Micro RS4's, but the shear quality of this product drove me to write this quick review. The real reason for buying this chassis is it's ability to hold 9-cells and a 480 sized motor (maybe > 4x the stock motor size). This combination will propel your micro to 50mph before the 2nd blink

.
Shipping:
Eventhough the price of shipping was high ($22 to Barbados), the speed at which it arrived was phenominal. They shipped almost immediately upon recieving payment. When shipping overseas they also help the customer with customs fees by declaring the kit at US$20. This saved me from paying ANY customs duties on arrival. Thanx again.
Packaging:
This conversion kit was professionaly packaged, with all the related parts separated and bagged together. It also included the address of a customers only website for online instructions on building the kit, installing aftermarket parts, product links to batteries, 480 motors, alloy etc.
I found, however, that the online instructions could use some part referance pictures of actual size. A newbie customer buying this kit to upgrade an RTR MRS4 would have alot of trouble assembling the kit. I bought the kit version so I built my own micro and had no problems upgrading.
Contents:
This kit includes very useful option/tuning parts. The rear pod that attaches to the rear differential is swappable and offers a wide range of rear traction/body roll ratios. Included are rear pods for 140mm and 150mm wheel-base cars.
Taken from website:
• Total of (4) 140mm wheelbase interchangeable rear pods available in both graphite and G10

o 12mm graphite rear pod – minimum lateral roll and low traction

o 12mm G10 fiberglass rear pod – medium-high lateral roll and medium high traction

o 10mm graphite rear pod – medium lateral roll with medium traction

o 10mm G10 rear pod – maximum lateral roll and maximum traction
Looks:
Carbon Fibre is just sexy! This is my first CF chassis of anykind, I wanted to get one for my xmod but never did.
The mass of CF and silver is just a site to behold.
The quality of the parts is also very good, if not great. The chassis is countersunk better than the stock chassis. All edges are clean and smooth to the touch. The CF has no nics or scratches from production and the way the pieces fit together, it's as if it was born assembled and taken apart for shipping.
Unfortuantely this chassis only fits the wider lexan 1:18 scale bodies, so som people may have to change their favorite bodies for this upgrade.
My Porsche WB fits nicely and the chassis is hardly visible.
Performance:
Sadly I cannot comment much on this aspect,as my micro is still being built and does not have any electronics what-so-ever. The Cf greatly increased the stiffness of the chassis, as expected. The batteries have slots to lower the CG as the electronics have to be mounted on the upper-deck (split-level).
The height of this upper-deck is also adjustable for further tweeking of the CG.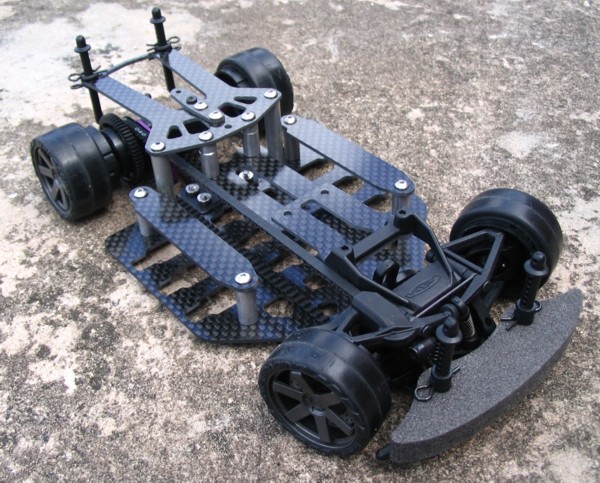 The rear pods do make quite a differance in rear suspension tuning. I have only felt the difference in the rigidity of the rear and cannot comment on traction differences.
Overall:
I rate this upgrade as a must-have for speed feinds. This gets a 8/10 in my book. It should get the other 2 points when i drive it

Some more pics: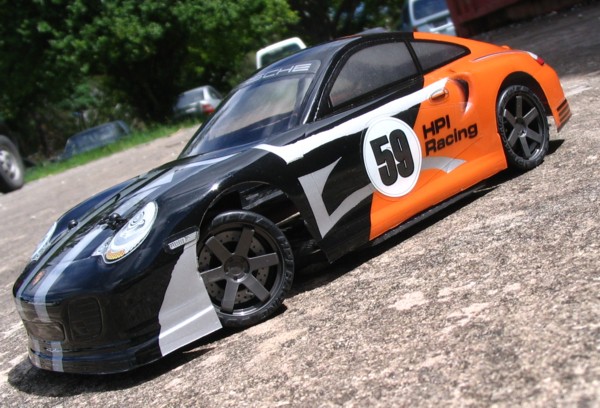 Later,
Maxx
---
bitHood
Posts: 44
Joined: Fri Jan 06, 2006 12:20 am
4 + 3 =: 0
antispamboolean: No
Location: Montreal,CANADA
Killer little kit you have there,with a Graupner 480BB and six cells you have a little rocket.

I blame bitPIMPS for infecting me with the savage urge to buy roach sized RC!
---