bitPimp
Posts: 714
Joined: Wed Nov 05, 2003 3:40 am
4 + 3 =: 0
antispamboolean: No
Location: Virginia Beach, Virginia
I'll be doing a review of as many 1:28 scale cars as possible, but I only have four at the moment. They will all recieve a 2X3 stack of fets and PH2T-designed plasma-atomic motor. I will put other mods and parts in as well to certain cars for obvious performance reasons. I'm not talking about stock so much because most 1:28 scale fanatics would want to mod these babies up. This comparison gives insight to how these cars handle when given the gift of speed.
I've tried to keep this comparison non-biased. The MR-02 is the fastest car and handles better than the Xmods, but I realize that may not be what everyone is looking for. Also, I still like my Xmods even though they are a bit outcassed by the MR-02.
I'll update this post as I go.
Eventually, I will get the following cars on this comparison;
Xmod Gen 1 (done)
Xmod EVO (done)
Mini-z MR-02 (done)
Firelap 2.0 (done)
Iwaver 02 (done)
Iwaver 02M
Mini-z MR-010/AWD
Mini-z MR-15
Xmod EVO Truck
Mini-z MR-01
Iwaver 01
XMOD GEN 1
NSX
2X3 stack of 7317 fets, plasma-atomic, tight turns (resistor) mod, 10 tooth pinion, steering servo centered, alloy rear axle, wheel shims, ball bearings, glued tires to wheels
Performance; Not very impressive but I still enjoy running it around. It has it's own unique handling. Overall, the slowest out of the bunch. The car kinda sucks handling wise. It's kinda clunky around the corners and even with the fets and better motor it still accelerates slower than the others. It pulls to one direction or another no matter how much centering you do with the controller because of the slop in the wheels. I even have wheel shims installed. I'll probably keep working on the slop.
Quality; Could have been better. There is the slop in the wheels that I mentioned above. The gears don't mesh the best, so you loose power in the drive train. The wiring on my steering servo was almost off. I had to resolder them to thier connection ports. The steering servo is weak when compared to other steering servos. The body looks good, but when you set it next to a mini-z, it looks like a turd. Also, on the axles, both RWD and with the AWD kit, there is a very weak joint cup. If you add speed this thing WILL BREAK garaunteed. They will need to be replaced with aluminum joint cups.
Controller; It gets the job done. I don't like resetting the trim every time I turn it on, but that's not that big of a deal. I kind of like the controller. It's easy to use and it's compact. You can fold it up which gives you more room in the carrying case for other stuff.
Ease of modding; Could also be better. The PCB is under everything, so you have to take the whole thing apart just to get to it. The hop-ups can be a pain to install do to that reason as well. So, if your sitting around and trying to take it apart and put it back together to compare different parts, you'll be spending more time working on it than racing it. The tires need to be glued down once you get it going faster. Otherwise they'll come right off. For a while it always seemed like I was fixing stuff on it.
Pros; Tough body. Now that I've got it running how I want, it's a pretty stable racer. This thing has been slammed against just about everything, but it's still kicking.
Cons; I've dumped some money into this thing to get it running how I want. I could have spent that money on a better car. I don't regret it. I'm quite fond of my Gen 1 Xmod. It's like a novalty. Unfortunately, that means I wouldn't class this as a hard core racer. Also the AWD kit steals too much power.
XMOD EVO
Lancer evo
2x3 stack of fets (3 X 9910 and 3 X 7329), ball bearings, plasma-atomic, glued tires to wheels
Performance; Surprising! This thing halls nuts. Possibly good competition for a mini-z. It actually kept up with my MR-02 for about the first 7 feet. Unfortunately the handling is iffy. I definately need AWD to help control it. Without the AWD it likes to spin out and sucks at turning. Unfortunately with AWD and high gearing the fets have more stress on them and get very hot. So, with AWD I have to lower the gears to help and it still gets hot. So, it's got the acceleration in RWD to compete with the MR-02, but not the handling. In AWD mode, it has the handling to compete, but not the Speed. This problem could probably be fixed with PH2T's external turbo (Nelly EVO), which I'll do and comment on when I get er done. I do like the stock tires even though I had to glue them to stay on. Very sticky. I have the highest stock gearing in there now and it still has tons of torque.
Quality; Very good. Nice steering servo. Improved electronics. I've got a Lancer evo body and it's nice, but I think it could be better. It looks more blueish in pictures, but it's actually a dull greyish color. Some of the body kit parts look very plastic. I really need an alloy diff for this car as the gear diff seams very fragile even with the diff fix.
Controller; Same as the Gen 1 Xmods. Rat-shack didn't change a thing.
Ease of modding; Very nice. It doesn't take much to get to the PCB. I also like how you only need to take certain screws out to get to where you need to get. Makes things like motor and gear swapping much easier.
Pros; Tough body, like the Gen 1. I had a friend running this one around. He wasn't a good driver at all. I think he hit just about everything he could, but it's still running strong. I've only slammed it a few times since I've got it running at mach 2, so we'll see.
Cons; Weak drive train parts. AWD with high gearing makes the fets get too hot. I could add more fets to handle more heat or switch to an external turbo. I'm gonna replace most of the drive train when I get the chance. Cost. The basic set is only $60, but by the time you pick up all the hop-ups you'll be spending much more. It's very easy to dump $100+ into one of these. Plus, when you add the kind of power I've added, you're gonna have to do more work to keep it running and pay more money for aftermarket products that can be a little hard to find at good prices. Paying this much for something that only barely keeps pace with a MR-02 might be questionable. That's a decision for you to make. I made my decision though and I don't regret it.
ADDITIONAL TESTS TO NOTE: This doesn't really fit in to this whole project as I threw some lithiums into the Xmod EVO and none of the other test cars have them, but it needs to be said. With Lithiums (E.L.P.A.), and a Nelly EVO this car can handle a hot motor and AWD. I'm currently running an Anima Modified motor and this car is tearing it up. Additional work needs to be done to maintain the motor, like a better heat sink and some com drops, but basically this means it CAN compete with the MR-02. With the AWD it definitely has advantages that the 2WD MR-02 doesn't have. Which one would win a race really depends on the driver and the track. The only thing holding back it's performance right now is the lack of a ball diff instead of a fragile gear diff. It will be interesting to see how this thing compares to a MR-010 AWD Mini-Z. I'll be picking up one of those very soon so we'll see.
KYOSHO MNI-Z MR-02
JGTC Epson NSX
2X3 7317 fets, plasma-atomic motor, iwaver ball diff, rear oil shock, gandini foam tires, ball bearings all around
Performance; Outstanding. Accelerates smoothly, fast as hell, precise control and handles bumps like a champ. Almost no bounce from small bumps. Handles high speeds very well. When I had the stock rear shock and stock diff it was still a very stable car. Those two additions just made it that much better. The body pops off easily when you hit things, but that's not such a bad thing because if it was firmly attached to the chassis it would take more damage from a hit. Traction from the stock tires is a bit depressing. Add that to a loose stock diff and you have a car that you have to milk the trigger to get to it's top speed. An almost stock Xmod evo was doing better at acceleration before I added the iwaver ball diff and the gandini foams. But with the gandini foams and the iwaver ball diff it leaves that almost stock Xmod evo in the dust. ---NOTE--- Don't confuse that "almost stock Xmod evo" with the modded Xmod evo above.
I do have another gripe about it actually. The transmition. It has that run on feature in it. If I run out of range of the transmitter, it continues it's last command. So if I was in the middle of gunning it, it will take off on its own. That could spell a very bad situation if it's running straight for a curve. A good smack against some hard cement could really do some damage to that nice looking shell.
Quality; You can tell Kyosho was designing a race car and not just a toy. Good strong servo. Quality PCB offers many more steps to the steering and acceleration. Almost no slop anywhere and the gears mesh so well it's very quiet compared to the Xmods. The suspension system is genius really. Especially with the oil shocks. The body is a work of art, but it's a little easy to damage. The tires are too slick. And it seems a little difficult to find some good replacements. The Gandini's are the best thing I've found so far and they are the shizzle. And while they're worth every penny, they come already glued to plastic silver rims. They only have one style wheel for these Gandini's. Mind you, I can't say I mind when you factor in the performance, but if you're looking to throw on some nice rims, you'll have to utilize the mediocre tires which like to slide.
Lastly, the wheel nuts are not the strongest. I had one fly off and I almost lost a small part for the rear axle when the right rear wheel and a few other things came off with it. But, seeing as locking aluminum wheel nuts can be found all over the place for $5 or less, then it's not that big of a deal. The stock wheel nuts are made out of a soft plastic that can get stripped very easily. I've already thrown some away instead of reusing them.
Controller; I love it. It remembers the trim settings unlike the Xmods. It also has some very good controls that you can use to adjust steering and a few other things. Not a super digital controller or anything, but it gets the job done and is easy to use.
Ease of modding; Can be tricky. The car itself comes apart easily. There are not to many screws to deal with, witch is nice. Changing out hop up parts is a breaze. BUT, The fet mod can be very tricky. I've done many fet mods to bits and a few fet mods to Xmods, but I still managed to fudge my first Fet job on the MR-02. I fixed it and was more careful the second time, but if you've never done a fet stack mod, I would strongly recomend using an external turbo or practicing on a different car first. There is a black box that sits right next to the motor fets. That black box is a bit of a pain to work around and makes it very difficult to see one side of a fet stack. External turbos are faster anyways. Other than that, I love working on the MR-02. The windows can be taken out, so painting is easier.
Pros; Quality electronics. Quality chassis. Quality body. Works like a charm out of the box. A very stable platform that can handle higher speeds better than Xmods.
Cons; Stock tires are too slick. Stock diff is a little too loose. I wouldn't call the body weak, but it can be broken with some good hits. Also, it doesn't come with a nice case like the Xmods. Not a big deal though. I picked up my choice of carrying bag for like $15. There are a few different bags to select from that are made for the Kyosho mini-z's. Mini-z's are not as readily available in the States as Xmods. They can be pricey too. The averave price tag is around $130. Also, if you shop at places like Atomic mods, they'll charge you $45 for a Kyosho ball diff. I would recomend Ausmicro for the hop ups though. They've got some quality hop-ups for much cheaper.
Iwaver 02
Porsche Concept
2 X 3 stack of 7317 fets, Plasma-Atomic motor, Atomic ball diff, ball bearings
Performance; Outstanding like the MR-02. The acceleration and top speed is exactly the same. The cornering is also almost identical, BUT, and this is a very big BUT, the steering servo does not center as well as the MR-02. The problem happens when you come out of a turn. It either keeps turning a little in one direction or turns slightly the other way. This doesn't seem like a big deal running by itself or against another Iwaver or even an Xmod, but the Kyosho will easily gain the advantage out of a turn while the Iwaver 02 is struggling to get back it's control. I'm going to research replacing the stock steering fet/driver with something else to see if this helps. That may be all it needs. I'll get back to you all on this issue. The transmition range is better than the Kyosho though. Although, the Iwaver transmitter will interfere with the MR-02 if the MR-02 gets too close to the Iwaver transmitter. Not that big of a deal if the Iwaver driver stays out of the way though. The body will pop off just like the MR-02. Again, that's a bit of a blessing since it reduces damage to the body. The stock diff is almost identical to the Kyosho stock diff. It's also highly recommended to be one of the first things to be replaced. There are no real brakes on the IW02. It has a brake pulsing system that you can utilize, but it's quirky and unreliable. You can turn it off though and just utilize the good old reverse function to aid stopping. The brake pulsing system doesn't really stop the car and because it doesn't react the same way every time it's not reliable and that can really ruin your day in an actual race. Tires are the same thing as the Kyoshos. Not anything special. With the crappy, but adjustable, Atomic ball diff and the gandini foams this thing can handle the speed very well.
Quality; An excellent car really. Same great design as the MR-02, but slightly less in quality. The plastic in mine has cracked in more than one place. In fact I've nicknamed this thing the epoxy machine because it's got a healthy dose of epoxy holding it together. The plastic is a little different than the Kyosho. The Porsche Concept body had some problems as well. It didn't fit right on the chassis. One side was a little higher than the other. I had to rip out the side body clips, dremmel out space and epoxy them back correctly. The front wheel wells are too small. My front wheels would rub on the body when I turned. Also, the body's front lip catches very easily on the ground when the back bounces up even a little. I was running on the hard concrete when the rear bounced a little and the front lip of the car caught the concrete at full speed. The car did some aerobatic maneuvers that would have made an ace pilot jealous and then continued to travel along the ground in a way that would kill any occupants of a real car. The end result was the front lip of the car got ripped off. I tried some more epoxy, but it didn't hold and probably never will because it mostly shattered the part where the front body clip goes. I just replaced it with a Saleen body, which has no problems so far and looks ten times better.
Very little slop in the wheels and the gears run very smooth. The wheel nuts don't strip like the Kyosho's. They're very tight and I definitely don't worry about them coming off.
Controller; I like it. I kind of like the Kyosho controller better, but the Iwaver02 controller is very similar. The real difference is that it's digital, but it has too many buttons for a car that is somewhat simple really. Some of the buttons are right on the handle and I bump them while I'm driving. Thankfully bumping them doesn't change anything dramatically. I do like the fact that you can set up many different cars and save them to the controller's memory. The brake system is a waste of time really. They should have just left a regular brake system in there. Ultimately, when it comes down to it, the Kyosho MR-02 controller is easier to adjust because it has less buttons to figure out.
Ease of modding; Again very much the same as Kyosho except that the screws on mine didn't fit properly making them a pain to get in and out. Some holes were in the wrong place by a millimeter or two, other holes were not wide or deep enough. In fact that's how I cracked the plastic in some places, trying to force a screw into a hole that was too small. I ended up drilling out extra space in most of the screw holes. The PCB is easier to work on. You don't have to flip it over to get to the fets and there is no black box in the way of the actual fet mod, making the Iwaver02 easier to fet mod. Unfortunately the steering is not run with two fets like other cars. I'll be researching a possible change as I would really like to upgrade the steering, but there is no info I've found on it so far.
Pros; Keeps pace with a Mini-Z. Almost the same performance. Can handle higher speeds like a Mni-Z.
Cons; Same cons as the Kyosho really except the Iwaver02 needs a little more work to get it running right, but it does come with a lower price tag. The going rate for them right now is around $70~&80. The only other con that the MR-02 doesn't have is that the steering servo doesn't center correctly giving the Kyosho a significant performance edge.
Firelap 2.0
F1
Well, I'm not gonna go into a bug review on this one as it's exactly the same as the Iwaver except a few things that I'll talk about now.
Believe it or not the speed and acceleration is the same. I had to do a lot of tweeking to get the gears meshing correctly but after much tweeking it kept up with the Iwaver 02. The IW02 may have been a tad bit faster, but it was hard to call. The only difference between the Firelap 2.0 and the IW02 was the steering. Above I described the IW02's steering to be of lesser quality than the Kyosho brand. The Firelap 2.0 has the same problems as the IW02 but it's more pronounced. This is definately not something to compete against Kyosho, but the price makes it a nice beater to practice modding and take to the unforgiving concrete. Overall quality seemed a little bit less than an IW02 but you can work with it and get it all right with a little patience. Who knows, maybe after some more research, we can find some replacement parts for the steering and then it will be able to head to head with a Mini-Z. At that price, it would be worth it. I'll get some pics up when I get a chance.
I may not get another car QA'd for a while. I'm going to be pretty busy for a bit with work and family. I'm also focusing my attention on a few super cars I've been working on. You'll see more on this soon. I'll have to continue this when I get a chance.
Last edited by
HACHI-RYOKU
on Mon Apr 24, 2006 12:50 pm, edited 9 times in total.
Cause I ride around town on my low-rider bicycle.
---
bitPimp
Posts: 714
Joined: Wed Nov 05, 2003 3:40 am
4 + 3 =: 0
antispamboolean: No
Location: Virginia Beach, Virginia
Here they are together;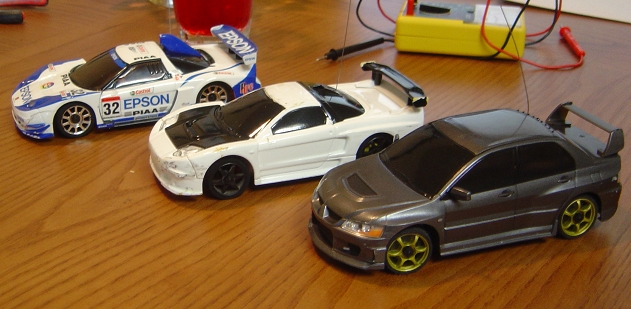 The Xmod NSX after I've beat the poo out of it. The body held up well.
Chassis shot.
A shot of the fets. Sorry, but I didn't want to take this thing all apart to get a picture of the fets. There's already a million places that have pics of a Gen 1 Xmod fet job. This pic was back when it was new still.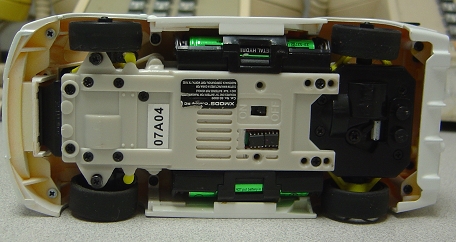 Xmod Evo
Notice how well it's taken a good beating. Still looks almost new.
Chassis shot
Fet stacks
Mini-z MR-02
You can see where a piece of the body was knocked off. That actually happened in a head on hit with the Xmod EVO Lancer. Notice the Lancer is not broke. Fixable at least.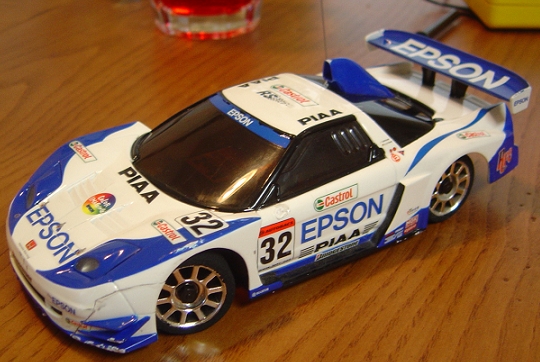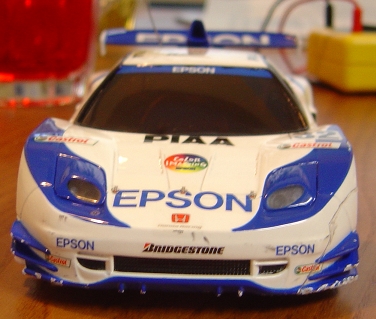 Some chassis shots. Notice how much more simple and light this looks compared to the Xmods.
A look at the PCB and the servo set-up.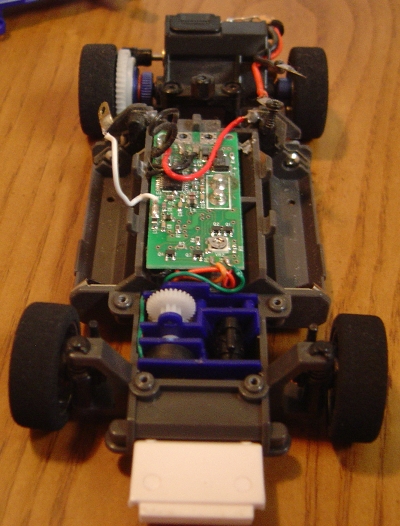 A look at the fet stacks.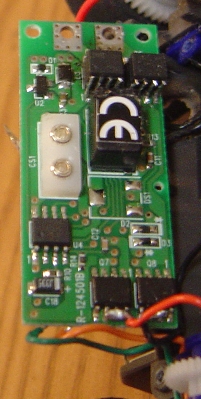 Here's a view of the fet stacks to show the lack of space between the fets and that black box. This is what makes the fet job on a MR-02 such a pain.
Gandini's. These have been run many times but are not showing any signs of wear. These are 8mm thin Gandinis that are mounted on the rear. I was just using this set-up for testing purposes. The correct size rear tires for this car is the 11.5mms.
IW02 Porsche Concept
Not the greatest looking body, but the roof can come off making it a convertable.
Also note the front wheel wells. Looks nasty and there's not enough room for the tires to turn completely.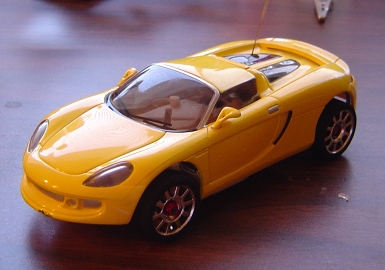 Had to drill out some holes. These holes weren't even deep enough to fit the screws in.
Here's some of the things I had to Epoxy.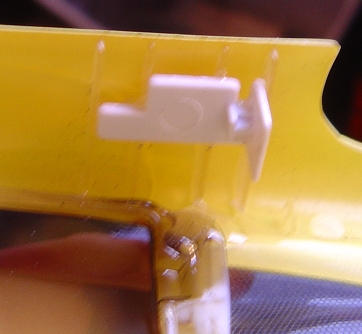 This didn't fit properly and would move easily if bumped by the ground.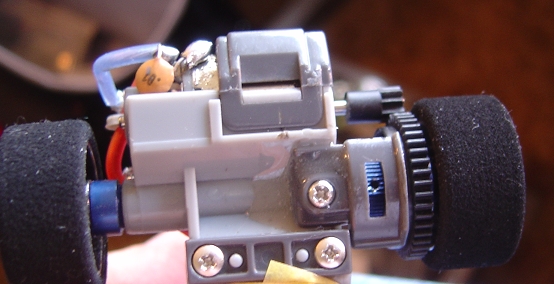 Look between the batteries and the wheels where the screw will go. There is a crack that actually travels all the way to the underside. I've highlighted it in red with my paint program.
Here's the crack in the front lip.
Some internal views. Note the fets. Much easier to get at than the MR-02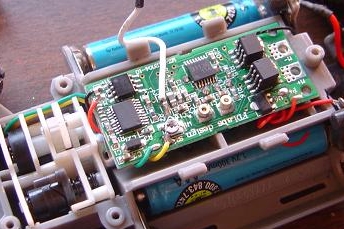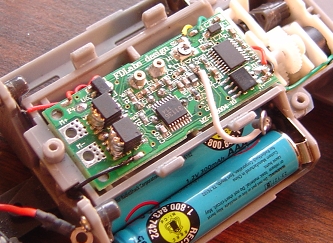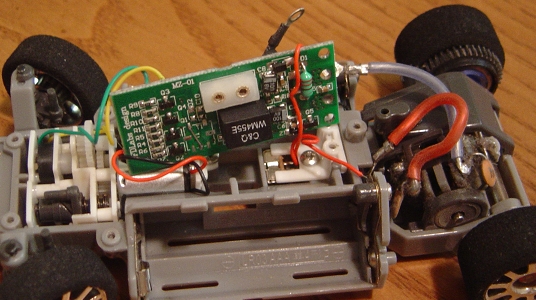 Here's a view with a fet stack. They pop up threw the plastic a little so I just dremmelled out some space for them. This is a 2 X 3 stack and it doesn't interfere with the rear spring at all. A larger stack probably would though. Notice this spring position wouldn't matter either way, but I've since changed this to a MM motor position where it would matter.
Here's aview of the new Iwaver Saleen body that replaced the Porsche body next to the Takata Dome JGTC Acura NSX. Much improved body.
Last edited by
HACHI-RYOKU
on Wed Mar 01, 2006 8:55 pm, edited 2 times in total.
Cause I ride around town on my low-rider bicycle.
---
---
bitPimp
Posts: 714
Joined: Wed Nov 05, 2003 3:40 am
4 + 3 =: 0
antispamboolean: No
Location: Virginia Beach, Virginia
Update. I finished the review on the Iwaver 02. I'll have the Firelap 2.0 reviewed soon. Just waiting on some parts and time to run it through it's paces. The PCB on the Firelap is different so I'm curious to how it will compare. The rest of the car is the same as an Iwaver. It even says "This is Iwaver" on the bottom of the car.
Cause I ride around town on my low-rider bicycle.
---