bitNinja
Posts: 703
Joined: Mon Jun 13, 2005 10:21 pm
4 + 3 =: 0
antispamboolean: No
Location: Brisvegas, Australia
Review taken from my other thread to seperate it from my other ramblings.
First off, some pics -
Okay, spent some time doing up a bit of a review on this thing:
FMH toys "MiniTurbo" 1/18th Monster Truck
Please bear in mind, I've never owned a minizilla before, so I'm unsure how these things compare against their genuine counterparts.
Packaging -
Pretty basic, obviously designed for shipping durability rather than product appeal. Comes packaged in a BGB - Big Glossy Box. Truck and radio zip-tied into the carton pretty securely.
First Appearances –
The body looks like an exact copy of the minizilla body. Even the "miniturbo" stickers down the sides are the same font.
All the body details, windows, etc are stickers and haven't been put on that accurately (some were upside down). I'll be getting a VW baja body real soon.
check the crappy stickers...
Build quality is overall quite good, with a few notable exceptions:
The front shock tower flexes visibly when the shocks are compressed, and the standard shocks are stiff friction units, with oil shocks a very much needed upgrade.
The drive train components are all steel, but for some reason they used a plastic CVD at each wheel. But more on that later.
All the "tierods" are actually just plastic rods which seem quite flimsy and leave a lot of slop in the steering.
Radio Gear and electrics are good, with a separate RX & ESC and large gauge wires used. The servo is a standard sized unit and seems quite quick and powerful.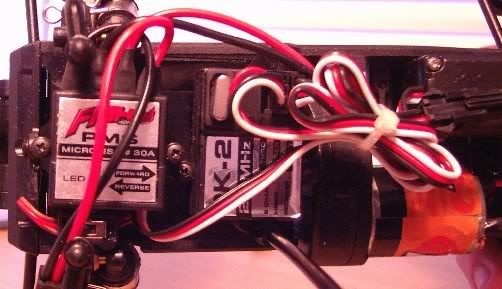 The TX is pretty cheap and feels plastic. It was difficult to get the antenna to screw into controller and the Battery Box fell out of the bottom when I removed the cover. It works well enough, but has a bit of a lag and there are noticeable "steps" when adjusting throttle/steering trim. Using the radio from my half eight was a definite improvement.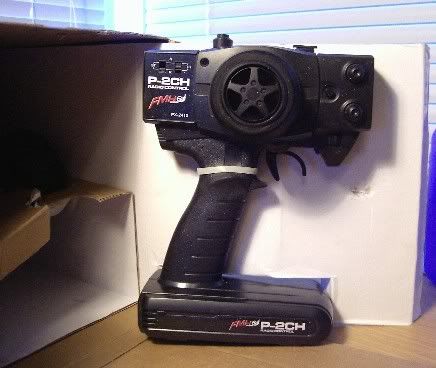 The included battery is an 1100mah 6 cell pack, with a charger. The stock charger takes about 5 hours to charge, doesn't have a cut off and gets quite warm. I think it's about time I invested in a proper charger…
I headed down to my local park to test it out. There is a small BMX "track" there that is really too small for bike riding, but makes a perfect 1/18 racetrack. I only got in about 3 laps before the truck became hard to steer and started making a loud clicking sound. The front left CVD had broken and seized the wheel. I think the shocks were transferring a lot of the impact and probably made matters worse. So half a pack in, I had to call it a day. When I checked it at home, the right front is starting to crack as well.
Despite the annoyance of the broken CVD I'm pretty happy with what I saw at the track. The truck has heaps of torque and will ride wheelies from a standstill. Top speed isn't fantastic, but as this truck is destined to be my basher that doesn't concern me too much. I'll look at a faster motor once I've sorted out the CVD's and suspension issues.
There are some issues with this truck, but for the around $80USD I paid I can deal with that. With the money I saved over the genuine minizilla, I can afford to buy the alloy upgrades I need to make this thing an awesome basher, and maybe a couple extra battery packs to keep the fun going.
A closer look at FMH toys' other rides suggests are similarly built, so if you're looking for a dirt-cheap base to build an alloy-ed RC18B or RC18T and can find em at the right price, they might be worth checking out.
"You guys are Wack"
"Wiggity Wack?"
"Nope, just regular kind"